Auto Dealerships Need Business Intelligence
Turn data into actionable information in CDK Global.
Business Intelligence is simply Microsoft Excel used in a new way. A way that takes a little help to set up but is extremely simple to use thereafter. The introduction of Microsoft's PowerPivot for Excel 2010 and its subsequent enhancement in Excel 2013 and Excel 2016, has allowed General and Department Managers to improve their efficiency many times over.
Automotive Systems Training has coupled CDK Global's Data Access Bulk Extract product with Excel (and other data sources) to allow managers to quickly and effortlessly review their operating stats. This is incredibly important to those responsible for multiple dealerships as switching from store to store requires only a button click.
Only those areas of the operation that are of use to the manager or executive are included in their personal Excel workbook or reported on SharePoint such as rates and reserve and F&I Income by Lienholder. No longer does the manager have wade through printed ADP reports, they simply click on buttons on an Excel worksheet such as those on the left in this screenshot: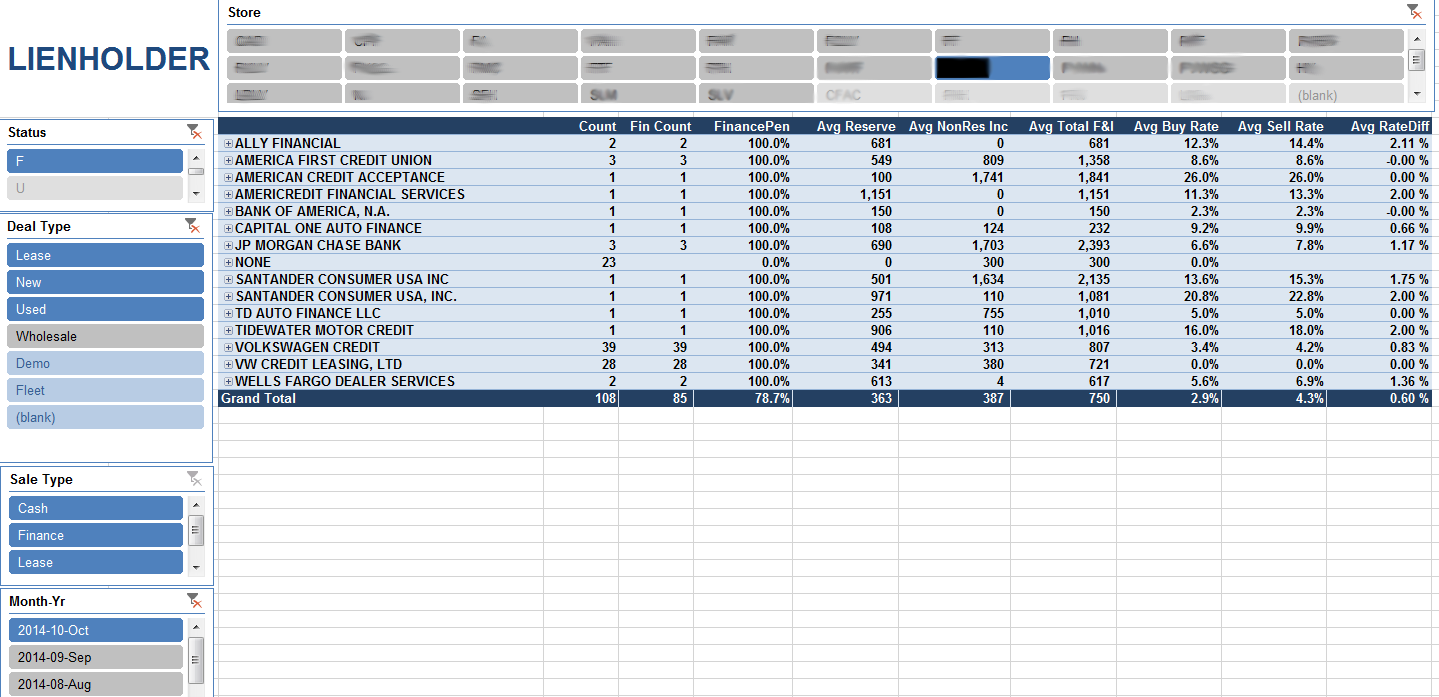 This particular Excel worksheet is for a workbook belonging to the CEO of a multiple dealership group. The box areas along the top is a selector for the dealership for which the CEO would like to review Lienholder activity. When the CEO clicks on a different company (other than the one selected) the table in the center changes to the figures applicable to the new store in less than a second. The CEO can combine stores by selecting multiple buttons at once. There are a number of buttons down the left side of the information table that allows the CEO to review the stats for isolated situations such as leases only, different months etc. This form of Business Intelligence requires only three things:
Microsoft Excel 2016
CDK Global
Automotive Systems Training to get you started
Call now (702) 498-8777 for a free consultation on how this powerful tool will make you more efficient than you thought possible.